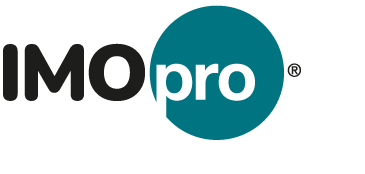 The bovine Colostrum and Vitamins food supplement for immune and gastrointestinal wellbeing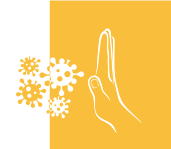 IMOpro COLOSTRUM Plus
The complete defense for your body
Stress, poor diet, chronic illnesses and gastrointestinal imbalances can seriously challenge your body's defences. Causing tiredness and fatigue, musculoskeletal pain, headaches, flu and colds, abdominal pain, cramps and flatulence, diarrhoea and bloating. IMOpro COLOSTRUM Plus is a bovine Colostrum and vitamins food supplement, acting as a valuable ally for the immune system and the gastrointestinal system. 1,2  
Thanks to fundamental nutrients such as Vitamins A, C, E and D3, IMOpro COLOSTRUM Plus food supplement promotes reactivity, resistance and vitality of the cells in your body fostering a general state of well-being. IMOpro COLOSTRUM Plus contains ascorbic acid and powerful antioxidant phytonutrients, extracted from Acerola. Gluten and preservative free, IMOpro COLOSTRUM Plus contributes to the strengthening of the immune system and helps combat gastrointestinal disorders, 365 days a year!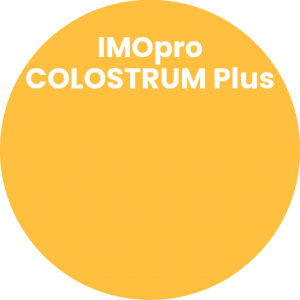 High in Vitamins
and Minerals


Supports the gastrointestinal
system

Suitable also for
children
Colostrum, the cow's first-lactation calving milk, helps boost the body's immune system by protecting us from infections and helps improve gastrointestinal functions.1,2 Vitamins, minerals and amino acids in colostrum are used by the body to synthesise proteins needed for the skeleton, skin and tissues. In addition, bovine Colostrum is rich in bioactive immune factors such as Lactoferrin, antibodies and growth factors. The high amount of proline in bovine Colostrum enables the production of T-lymphocytes, which are specialised in recognising virus-infected cells.

Vitamins are micronutrients that are indispensable to life, as they are involved in numerous metabolic processes and contribute to the development and proper functioning of tissues and organs. Most vitamins are acquired by food, because the body produces pitiful amounts, insufficient to meet daily requirements. IMOpro COLOSTRUM Plus supplement is rich in Vitamin A, C, E and D3, essential micronutrients. Together with bovine Colostrum, they create a synergistic alliance providing an invaluable defence for the body.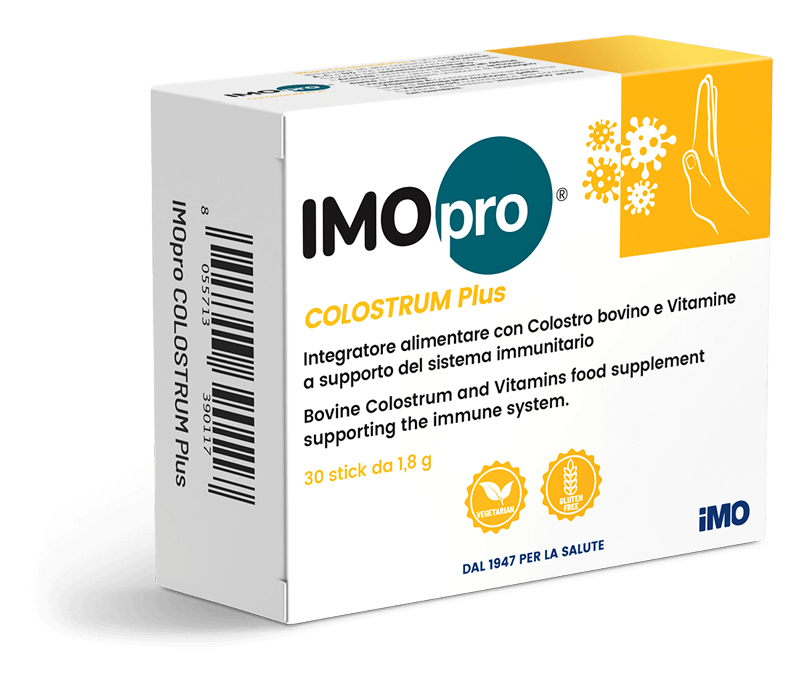 Colostrum and vitamin food supplement, supporting the normal immune and gastrointestinal system functions.1,2 IMOpro COLOSTRUM Plus is suitable for adults and children over 3 years of age. Consult your paediatrician and/or pharmacist before giving to children under 3 years of age. Gluten free, with no preservatives or colorants make it well tolerated. Suitable for vegetarian diets. Allergens: milk.
The box contains 30 x 1.8 g sticks. The recommended daily dose is 1 stick.
Sei un medico o un farmacista?
Vai all'area riservata di IMO per accedere a maggiori informazioni!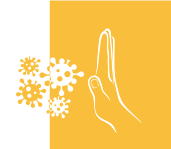 From nature,
your daily defence
Scientific
Studies References
Would you like to find out more about IMOpro COLOSTRUM Plus?
Read the Scientific Studies References!
Are you curious or would you like to know more about the IMOpro COLOSTRUM Plus?

Fill in the form below, with your details and your query:

we will get back to you as soon as possible!
IMOpro supplements should not be used as a substitute for a varied diet and a healthy lifestyle. If in doubt, please consult your doctor and/or pharmacist.